In this division we design and implement capacity building and development programs, hold conferences and occasions concerned with the equipping of engineers with cotemporary professional trainings. We offer the trainings to individuals that are eager to enrich their understandings and expertise. Moreover, we undertake extensive training programs for companies who are in need of such kind of trainings for their staffs.
The trainings we are providing are certified by credible academic agencies. The materials being taught at AEA are compatible to the market demands; the trainings we offer equip a trainee to be well accepted in engineering entities.
Due to the lack of coordination, cooperation and to an extent conflict of interests among engineering universities, colleges, and institutes, these entities teach a variety of subjects; the engineering codes being taught are different; the methods undertaken varies; and eventually the donors supporting these entities are not streamlining them to act in alignment with the academic goals in a national level.
The universities coordination department at AEA works for the integrating and communicating of Afghan engineering universities. In this department efforts are toward the development of the engineering universities to a direction of market demand and toward an alignment of the national needs to the engineering human resources. The curriculums of every university is evaluated by the educational and professional division the department of universities coordination. In comparison to the prevalent trends in terms of the practicing skills of an engineer required in engineering projects, proper suggestions are made for the universities.
Here, at AEA the department of engineering universities coordination has developed our training materials that have to the possible extent eliminated the conflicts of interests. For instance, a reinforced concrete structural design course is taught by the instructor who is well knows about the details of the materials being taught in various colleges and universities. Accordingly, he has prepared his handouts, references and other supplementary materials so that students could not be confused with the contents of the course that they will take.
Engineering students, technicians on their own behalf or being introduced through their employers are given the chance to be trained. Holding that there is an expressed need for the distinguishing of potential engineering experts, AEA in coordination with other relevant bodies has developed a plan based on which, engineers would be rated.
The trainers at AEA are distinguished credible national universities lecturers. They have higher education from national universities inside the country and abroad. We have trainers in the level of Bachelor, Masters, and Doctorate. The materials that they have prepared for the purpose of teaching is both developed in a manual manner and through the usage of software. Alongside the theory, that has been being taught in our classes, our trainers are taking the students on site to equip them with the practical knowledge of some subjects that are really crucial to be learned.
AEA Generally has two focus points first training program & second designing. For both parts AEA Engineering team has complete knowledge and plenty of experiences. This paper contains only training programs, for the design part refer to design concept paper. So Completion of the Trainings will have a valued result that prepare the engineers to have complete influence on their profession. For short the following paragraph indicates the main parts of training and designing programs
Training Program is generally categorized as:
General Management & Teaching methodology
Horizontal and Infra-Structure System Training Programs
Vertical Structure Analysis and design Programs
Hydrology/Hydraulics Training programs
For Short, the AEA Want to Hold the Following Programs besides of other Technical Works that You Can Chose from the List.
For more Information Refer to Detail Description in the Next Pages
General Management: In this part of the program the main focus is on Project Management, Quality Control Management and Scheduling. For all these parts AEA technical team will train the trainee with advanced theoretical and practical tips in accordance to international standards.
Horizontal [Highways/Roads and infra-structure system]: Horizontal structures are ones of the most important section that the ministry of urban development daily deal with. Fortunately, AEA Engineering Team have designed the most challenging projects with advanced methods and newly developed software which are fully recorded. Finally, you will find them the updated designer and trainer group in Afghanistan. For more detailed information about the programs please refer to the next pages
Vertical/Horizontal Structures: Besides of common design software such as SAP, ETABS, SAFE. STAAD Pro & STAAD Foundation, CSI Bridge and PGSuper which are the most applicable software's for analysis and designing of Bridges are include in training program that would be a unique training for bridge designers
Hydrology and Hydraulics: Watershed management, Surface water, ground water, urban hydrology, bridge hydrology and hydraulics, Culverts H/H, open canal H/H and updated software's (TR20, TR55, HEC-RAS, HEC-HMS and ArcGIS) are one of Issues that will include in the trainings.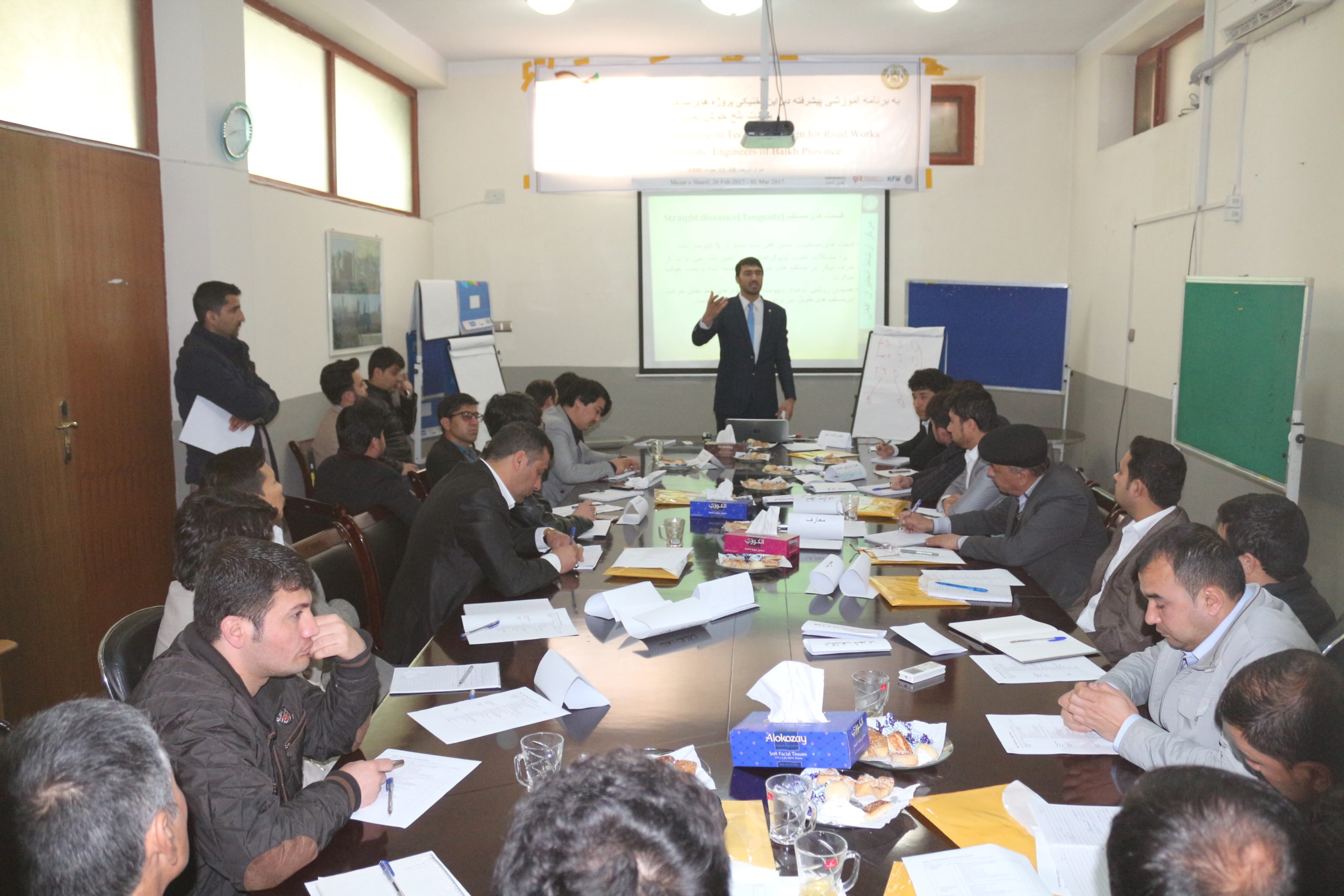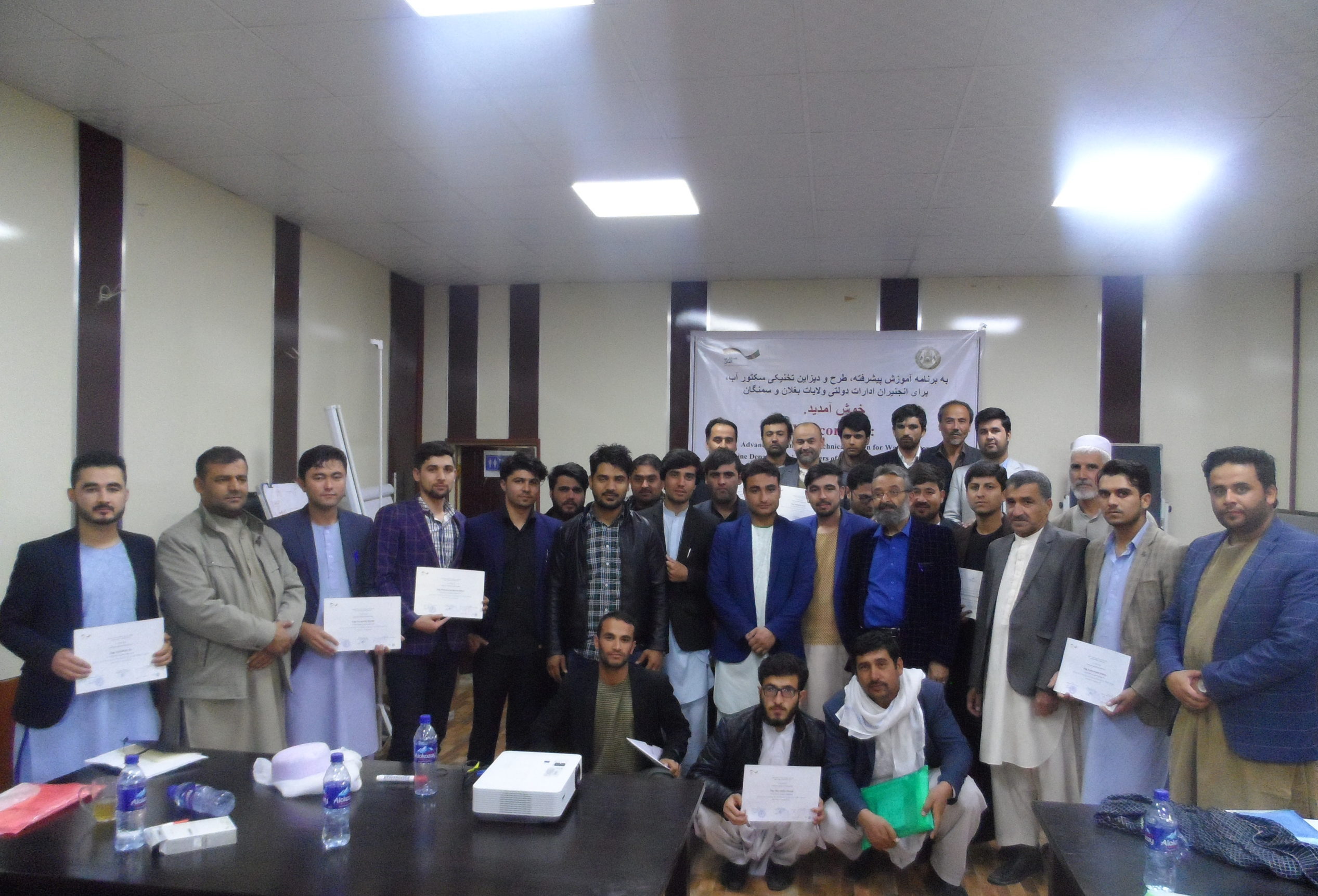 Part 1
Teaching Methodologies and General Managements
Teaching Methodology Program
Teaching Methodology is the Most Effective Program Developed by USAID for All Governmental and Private Sectors to be considered in Teaching Systems to fulfill the students' needs and to improve them in their professions So AERC Engineering Want to Apply the System by the Professional Team in Advanced Manner. For Any Volunteers the Program Content will be submitted in a sprit Proposal. For More Questions about Please Refer to the Main Office
Quality Control Management Training Program
This Course is intended to Improve Engineers Skills and information in Required Quality and Standards for Completion of Projects According to Plans and Specifications, on Time, Within a Defined Budget and Safely. For Short,
While Completing the Program the Trainee Will be able to:
State the Purpose of Construction Quality Control Management.
Discuss various characteristics that are peculiar to the construction industry
Define Contractor Quality Control (CQC).
Define Government Quality Assurance (QA)
To State Various Reviews, Plans, Conference, Report and Managements
State the Purpose of Resident Management Systems (RMS)
State the Purpose Quality Control System (QCS)
Quality Control Management has abroad Aspects So Besides of other information the Following Points Will be Included in the Training:
Broad Aspects of CQC Components
Control and Inspections
Organizations and Their
Responsibilities Government and
Contractor Responsibilities QC
Organizations and Responsibilities
Documentations
Quality Control Planning
Definable Feature of Works
Testing
Submittal Process
QC/QA Progress Meetings
Progress Schedule and Progress Payments
Tracking
RMS and QCS Review
SCHEDULING
This Program Contains all Important Aspects of Software based Project Management in Advanced Manner, for short the Important Parts of this Program are.
General Scheduling
Budget Analysis
S-Curve Analysis
Risk Analysis
Part 2
Horizontal Structures Training Program
The Structure that are based on linearly or Station by Station Study is Called Horizontal Structure. Horizontal Structures Includes Many Types of Structures like Highways, Roads, Rail Roads, Tunnels and Many Other Structures. To Have Advanced and Updated Information about Planning, Analyzing, Designing and Construction of Horizontal Structures the Following Parts Will Serve Engineers the best. This Program Contains Detailed Information about Horizontal Structures Planning, Advanced Analysis and Design Methods. The Program is categorized for Different Categories to give Chance for Volunteers for a Specific Part Selection. Let's Introduce the Program Training Categories.
While Completing the Program the Trainee Will be able to:
Advanced Traffic Loading for Highway and Road Analysis and Design
Analysis and Design of All Highway Geometric Types by Advanced Methods
Analysis and Design of All Pavements Types by Advanced Methods
Efficient and Advanced Methods for Highways and Roads Maintenance
General Hydrology/Hydraulic Analysis and Design for All Structures. Manually and Software based Methods
Full Application of GIS Versions for Planning, Analysis and Design of Structures
Advance Surveying for Horizontal and Vertical Structures.
HIGHWAY GEOMETRIC DESIGN
This part of Program Includes the Design of Highway Geometric with all Related Parts in Advanced
Manner that Will Includes Manually and Software Based Methods. The Major Items of This Parts are:
Highway Geometric Design According to AASHTO (American Association of State Highway and Transportation Officials) Standards
Rural Highway and Roads Standards. Basic & Advanced Method. Software (Civil 3D)
Urban Highway and Roads Standards. Basic & Advanced Method. Software (Civil 3D)
Highway Pavements and Material Design
This part of Program Includes the Analysis and Design of Pavements and Road Materials with all Related Parts in Advanced Manner that Will Includes Manually and Software Based Methods. The Major Items of This Parts are
Highway Pavements Analysis and Design (Rigid and Flexible) According to [AASHTO Pavement Structure Design 1993 Manual for Pavement Design]
Highway Flexible Pavements Analysis and Design According to [MS-1 Asphalt Institute of America]
Highway Pavement Analysis and Design According to [USACE-United State Army Corps of Engineer] Method.
Highway Pavement Structural Design for Special Conditions Using Geotextiles and Geomembranes
Unpaved Pavements Analysis and Design According to [AASHTO 1993 Design Manual]
ROAD AND HIGHWAY OPERATION AND MAINTENANCE (STRUCTURE AND PAVEMENTS)
Highway Operation and Maintenance is an Important Process the Roads and Highways Serviceability and their Effective Live Period. Operation and Maintenance Methodologies will be Trained basically (Manually) and by ArcGIS or Software based Method.
Highway and Road Pavements
Highway and Road Structures
Hydrology and Hydraulics Design
Hydrology/Hydraulics Analysis and Design is a vital part of Horizontal Structures Because Determining of Peak Flood, Net Runoff, Time of Concentration, Flow Rate and Final Cross Section Required for Flow Rate Transportation is the Main Focus Point of H&H Analysis and Design so this Result is the first Necessity for Horizontal Structures to be Determined. In this Program Besides of the Mentioned Points
Determination the Following Points Are Also will be Included.
Bridges Hydrology and Hydraulic Analysis and Design. Basic (Manually) and Software based [ArcGIS, HEC-HMS, HEC-RAS]
Culverts Hydrology and Hydraulics Analysis and Design. Basic (Manually) and Software based [ArcGIS, HEC-HMS, HEC-RAS]
Open and Irrigation Canals Hydrology and Hydraulics Analysis and Design. Basic (Manually) and Software based [ArcGIS, HEC-HMS, HEC-RAS]
Open and Irrigation Canals Networks Hydrology and Hydraulics Analysis and Design. Basic (Manually) and Software based [Civil 3D]
Road Drainage H&H Analysis and Design Basic (Manually) and Software based [ArcGIS, HEC- HMS, HEC-RAS, TR-20 and TR-55]
Watershed
GIS PROGRAMS
This part of Program Includes GIS Application for Specific and General Uses in Engineering. In This Program besides of General Version of GIS the New Developed Version [QGIS] which is the Easiest, Fastest and Most Accurate Version Also Will Include for Usage in All Mentioned Items which are:
General Uses
Civil Engineering uses
Urban Planning
Network Analysis
Highway and Road Design
Highway and Road Maintenance
Site Plan Preparations
Storm Water Canal Analysis
Hydrological Analysis of Road Drainages
Analysis of Open Canals and Irrigation Canals Network
Preliminary Surveying for Design and Construction Projects
SURVEY PROGRAM
Survey Program Includes the Following Points, it is Extendible for the rest Parts
Control Surveying [Total Station & GPS]
Topographic Surveying [Total Station & GPS]
Hydrograph Surveying [Spatial Analysis, GIS, Global AERCper, Google Earth, Civil 3D, Total Station & GPS]
Condition Surveying for Road Maintenance [GPS, Areal Images & RoboGEO Software]
Implementation of Construction Surveying. [Level Machine, Total Station & GPS]
Part 3
Structure Analysis and Design Training Program
Course Objective
This Course is intended to Improve Engineers Skill in Structure Analysis and Design and to serve them to Know Better about Structure Linear and Non-Linear Behaviors under External Loadings and Local Conditions. Finally Designing of Structures Exactly What is it. The Programs Those Will Include in Training are:
While Completing the Program the Trainee Will be able to:
Advanced Loading for Structure Analysis and Design
Analysis of All Structure Types (Members, Slab, Stair, Shear Walls, Septic Tank…)
Exact Design of Structure Categories
Detailing and General Drawings Preparations (Software Based)
Advanced Connection Design
Advanced Foundations Design
Structure Take Off (Software Based
SAP (STRUCTURAL ANALYSIS PROGRAM)
This Software is Actually Designed for Analysis of Some Types of Structures Like Beams, 2D Trusses, 2D Frame, 3D Frame, Wall, Flat Slab, Shells, Staircase Storage Structure, Underground Concrete, Solid Model, Cable Bridge, Caltrans-BAG, Quick Bridge, Pipes and Plate but Also Can Design Beams, 2D Frames and Trusses, for Rest of Structures It Shows Analysis Result as Color Code that We Can Then Design Structure Basically According of Strength Analysis of RCC Books Manner.
For short in this Program the Following Points Are Supposed to be covered in SAP Training:
Basic Information about Structure Analysis and Design
Loading Introduction, and Load Combinations According to ACI 318 and ASCE 7-10
Seismic Load Application and Introduction of All Criterions
Linear and Nin-Linear Behavior Systems
Single and Multiple Spans Beam Analysis and Design
Analysis of 2D Trusses
Analysis of Bridge Truss
Analysis of Roof Trusses
Telephone Stations
2D Frame Analysis and Design
3D Frame Analysis and Design
Wall Analysis
Slab Analysis
Staircase Analysis Including its Manual Designing
Other Related Software Information Including Menus
ETABS (Extended Three Dimensional Analysis of Building Systems)
This Software is an Advanced Version of CSI Software that Besides of Items Mentioned in SAP Paragraph It Can Design Multiple Types of 3D Structures and Multi-Stories Buildings Including Shear Walls.
For short in this Course the Following Points Are Supposed to be covered in ETAB Training Course:
2D Frames
3D Frames
Multi Stories Structures Frame Resisting Systems
Multi-Stories Structures Shear Walls (Dual) Resisting Systems
Other Related Software Information Including Menus
SAFE (SLAB ANALYSIS BY THE FINITE ELEMENT METHOD)
This Software is Actually Designed for Analysis of Some Types of Structures like Two Ways Slab, Flat Slab, Flat Slab Perimeter Beams, Base Mat, Waffle Slab, Ribbed Slab, Single Footing, Combined Footing Mat Foundation but Also Can Design Beams and Other Structures Those Are in Contact with Soil or Other Spring Response Material.
For short in this Course the Following Points Are Supposed to be covered in SAFE Training Course:
Two Way Slab Analysis and Design
Slab On Grade Analysis and Design
Waffle Slab Analysis and Design
Single Footing Analysis and Design
Combined Footing.
Mat Foundation
Other Related Software Information Including Menus
CSI Bridge
This Software is Actually Designed for of Almost All Bridges Types, So in This Program Most Types of
Bridges Will Be Designed, for Short We Can Summarize as
General Overview of CSI Bridges Software
Dynamic Vehicle Loading
Load Rating Factors
Concrete Box Section Bridge Model
Design of Steel Girder Bridges
Design of Precast Composite Girder Bridges
Design of Pre-Stressed Concrete Box Girder Bridges
Design of Stage Types Bridges
STAAD PRO AND STAAD FOUNDATIONS
This Software is a Complete Set of Design Software that Could Design Almost All Structures Types Including Advanced Foundation Designing, Detailed Steel Connections Design, Reporting and Take off or (Bill of Quantities). For short we can summarize that.
AECR Capacity Building Programs:
Lots of our training classes are held just for a month. The subjects train via experienced vocational and technical trainers. The sessions are going with projector and every day has practical experiences. Every day have professional workshop for students which they have theory & practical sessions with the help of their instructor
[spiderpowa-pdf src="https://aerc.af/wp-content/uploads/2020/05/Doc1.pdf"]